Dance Mirror - Glassless Mylar and Rolling Base by Alvas
Non-Glass. Shatterproof. High Reflectivity. Light weight.
Description
Glassless Dance Mirror (Mylar Mirror) and Optional Rolling Base
| | | |
| --- | --- | --- |
| High Rolling Base | Low Rolling Base | |
Mylar Mirror
Mylar dance mirrors (glassless mirrors) are made of a highly reflective, shatter proof material that provides excellent image quality. These glassless mirror panels are made from metallized mirrored mylar plastic film. They give a brighter, sharper reflection than plate glass, with no ghost images. Our popular 4' x 8' mirror, with a rolling base, weighs only twelve pounds! Best of all, our dance studio mirrors won't shatter, making them much safer than glass. Our mirrors were featured on America's Best Dance Crew (Fanny Pak ABDC Season 7 Madonna Challenge Week 3). It's the perfect ballerina mirror.
Dance mirrors are an excellent teaching aid, for teachers to show students a dance move while the student stands next to them. This helps avoid the problem where students perform the move on the incorrect side or fail to reproduce the proper expression because they can't see the entire body of the teacher. By standing next to the student while both see each other in the mirror, the student is better able to learn and reproduce a given dance move or routine. Similarly, it's an incredibly useful tool for self-evaluation by dancers so they can see their own mistakes and correct them.
Effective dance training aid for all types of dance including contemporary, ballet, jazz, tap, modern, hip-hop, irish dance, and ballroom dancing. Since these mirrors have no glass, they are extremely light, very portable, and hence great for travel or frequent transport from room to room. They are frequently used in professional dance studios, by high school dance teams, and as home dance studio mirrors.
NOTE: Because mylar mirrors are sensitive to touch, adult supervision is advised when children are present.
Available in three styles: Panel only with no wheels, vertical panel on frame with rolling wheels, or horizontal panel on base with rolling wheels.
Rolling wheel base:

Wheel base legs extend 12" in front of mirror and 12" behind mirror to improve stability against tipping.
Low Rolling Base: Lifts mirror 4" off the ground.
High Rolling Base: Lifts mirror 2 feet off the ground.
A specially designed wheeled base allows you to offset the glassless mirrors for easy storage. For example, a 36' long mirror wall (composed of 9 vertical panels) requires under 4'x5' of floor space when stacked in this offset fashion.

Mirror Panel thickness: 1.25"
Mylar thickness: 1 mil (=0.0254 mm)
For wall mounting, panels come with two pre-attached aluminum mounting L-brackets, each about 12" long. Just drive screws through the brackets to mount the panel to your wall. These mounting brackets are not used with rolling bases.
Our Glassless Mirrors are UL rated as fire retardant (UL File #R7754) for fire safety. Other glassless mirrors that do not have such a rating should not be placed in public facilities, as they present a fire hazard.
Please allow approx. 3-4 weeks for production and delivery.
Additional Information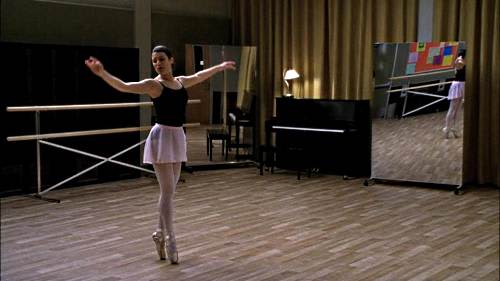 Our mirrors (and free-standing ballet barres) were featured on the TV show Glee!



Dance Mirror Panel (Panel Only)
Mount onto rolling base or onto a wall
Price
2'x6'
$269
2'x8'
$289
3'x6'
$309
3'x8'
$319
4'x6'
$329
4'x8'
$359
5'x6'
$379
5'x8'
$489
6'x6'
$519
6'x8'
$629
LOW Rolling Base
Lifts panel 4 inches above ground. Generally used for vertical/portrait panel orientation.
Price
2' Wide
$69
3' Wide
$79
4' Wide
$85
5' Wide
$89
6' Wide
$95
8' Wide
$99
HIGH Rolling Base
Lifts panel 2 feet above ground. Generally used for horizontal/landscape panel orientation.
Price
6' Wide
$139
8' Wide
$159
Note: Prices shown DO NOT include shipping costs. A shipping quote is required.
---
Optional Plastic Protective Panel Cover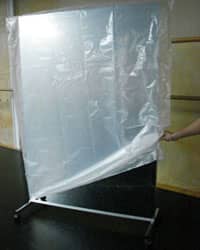 Also available is our protective plastic mirror cover to ensure your mirror does not get damaged while not in use. The cover is made of semi-clear plastic that is form fitting (NOT puncture resistant). Slips over the mirror, and is therefore intended for use with low and high rolling mirrors or stand-alone panels that are not mounted on a wall.
Horizontal covers have an opening that slips over the top, long side of the panel.
Vertical covers have an opening that slips over the top short side of the panel.
Cover Price: $29.99 each (please specify orientation of cover).
---
Common Uses and Applications:
Teaching aid for teachers and students to demonstrate and self-evaluate dance moves.
Portable, shatter, and transportation proof mirrors for traveling performance troupes.
Safe, individual portable mirrors in warm up room at competition events.
Extremely light-weight, wall-mounted mirror panel for delicate walls that cannot sustain or do not allow the mounting of heavy objects.
Any situation where an injury-proof reflective surface is required.