Complete Set-Deluxe Mat,Block,Canvas Bag, 6' Strap(Loop)
Description
Complete Yoga Kit - With Deluxe Yoga Mat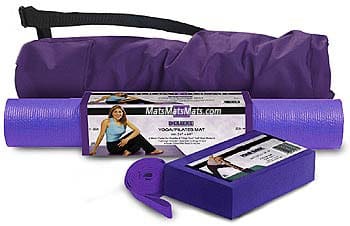 Set includes deluxe yoga mat, foam yoga block, stretching yoga strap, and canvas bag.
Deluxe Yoga Mat: 3/16" High-Tack Foam
Ideal for yoga and pilates. Made of durable, high-tack foam for extra stickiness.
Thickness: 3/16". Size: 24" x 68"
Foam Yoga Block
Ultra light weight and easy to use foam yoga block. Provide safety, stability, and support for achieving correct postures. Dimensions: 3" x 6" x 9"
6' Stretching Yoga Strap
Stretch yourself to the limit with our 100% cotton, durable yoga strap with end loops.

Deluxe Canvas Yoga Tote Bag
Durable canvas yoga tote bag with adjustable shoulder strap and a draw-string closure. Also has a convenient exterior side pocket with a hook & loop (like Velcro) closure to store your keys, wallet and other items.


| | |
| --- | --- |
| | |
| Purple | Navy Blue |