Zafu Meditation Cushion (Organic)
Description
Zafu Organic Meditation Cushion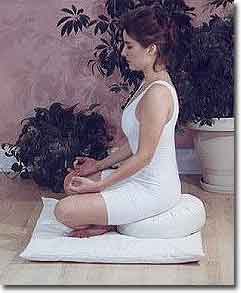 Meditation Cushion - Organic Zafu Pillow
Our comfortable and supportive organic cotton meditation cushion provides better spine alignment and proper height for a more comfortable and deeper meditation. The zafu cushion makes sitting meditation easier on the knees and ankles. Our 100% organic buckwheat hull filling gently conforms to your body's shape and is wrapped in a strong, pure 100% organic cotton twill shell - our organic cotton meditation pillow is untreated and unbleached. The only part that is not 100% organic cotton is the black cotton strap on the side of the zafu due to the black dye. Our zafu pillow is supremely comfortable resting place from which to embark on the meditative travels of the mind/body.
Specifications:
Available in Round or Oval shape.
Size: 15" diameter x 5"-6" thick
Weight: approximately 6 pounds.