KenClean Athletic Mat Disinfectant & Cleaner
Virucide. Germicide. Cleaner
Features
KenClean Plus mat disinfectant and cleaner is used to clean and disinfect your mat, but won't harm your mat's finish.
Kenclean Plus was formulated to be cost effective and easy to use. Just 2 ounces of KenClean Plus per gallon of solution not only cleans your mats but also disinfects them. If three gallons of water are used to clean your mats, then you would add 6 ounces of KenClean Plus per cleaning.
Not all wrestling mat disinfectants are created equal. Make sure yours kills the *viruses, bacteria and fungi that can cause health problems. KenClean kills the following: HIV-1 (AIDS) Virus. Herpes Simplex Type 1. Staphyloccus Aureaus. Strephtoccus Faecalis. Streptoccus Salivarius. MRSA. Trichophyton Mentagrophytes (Causative agent responsible for RINGWORM). Refer to label for additional benefits. For effective protection must be used in accordance with instructions on label.
Total Volume: 5 gal
Made in the USA
Description
Mat Disinfectant Cleaner (Germicide & Virucide)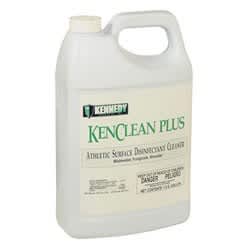 KenClean Plus mat disinfectant and cleaner is used to clean and disinfect your mat, but won't harm your mat's finish.
Not all wrestling mat disinfectants are created equal. Make sure yours kills the *viruses, bacteria and fungi that can cause health problems.
KenClean kills the following:
HIV-1 (AIDS) Virus*
Herpes Simplex Type 1*
Staphyloccus Aureaus
Strephtoccus Faecalis
Streptoccus Salivarius
MRSA
Trichophyton Mentagrophytes (Causative agent responsible for RINGWORM)
Refer to label for additional benefits
For effective protection must be used in accordance with instructions on label.
| Style | Total Volume |
| --- | --- |
| One 1-Gallon Container | 1 gal |
| Case of six 32 oz. Containers | 1.5 gal |
| Case of four 1-Gallon Containers | 4 gal |
| Case of two 2.5-Gallon Containers | 5 gal |
| Case of twelve 1-Quart, Ready-To-Use, Spray Containers (pre-diluted, incl. 2 sprayers) | 3 gal |
Kenclean Plus was formulated to be cost effective and easy to use. Just 2 ounces of KenClean Plus per gallon of solution not only cleans your mats but also disinfects them. If three gallons of water are used to clean your mats, then you would add 6 ounces of KenClean Plus per cleaning. Also available in pre-diluted, ready-to-use spray containers.