Gymnastics Pit Mat (24" or 32" Thick)
Description
Practice Pit Mat - High Impact Crash Mat (24" & 32" thick)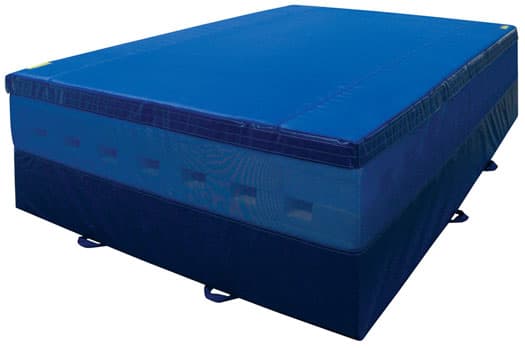 A custom shipping quote is required for the following items due to their large size and weight.

Non-Folding

Size

24" thick

32" thick

5' x 10'

$1,370

$1,715

6' x 12'

$1,870

$2,300

7'6" x 12'

$2,225

$2,795

8' x 12'

$2,340

$2,955

8' x 16'

$3,015

$3,880

Note: Prices shown DO NOT include shipping costs. A shipping quote is required.
These practice pit mats for gymnastics feature a breather mesh top for controlled air venting on impact. This breather mesh top is completely removable using hook & loop (like Velcro) fasteners instead of a zipper, which makes inserting or replacing layered filler foam much easier. Exclusive hook & loop (like Velcro) fastener system allows the top to be pulled taut so the pit never looks loose or sloppy. Bottom and sides are made of smooth, solid, durable, 18 oz. coated vinyl with 4" wide hook & loop (like Velcro) fastener strips sewn on top edge of all sides. Additionally, they have conveniently placed, 2" wide, heavy-duty, reinforced, webbing handles on two sides to allow for easier transport.
Specifications:
Cover: Durable 18 oz. vinyl coated fabric.
Foam: Polyurethane
Density:

24" Pit Mat: 24 ILD foam throughout
32" Pit Mat: 24 ILD foam throughout

Thickness: 24" or 32" thick.
Custom color combinations for cover and breather mesh are available in colors shown below.
This product ships in separate parts. Please follow these pit mat assembly instructions.
This product is made-to-order. Please call for current delivery timeframe.
---
Common Uses and Applications:
Gymnastics pit mat
High impact and high altitude fall protection
Diving Dryboard
Aerial performance protection pads
Military or private skydiving training centers
Law enforcement and military combat training facilities
Contemporary circus schools and performers in need of training and fall protection mats that fold and have handles for frequent moving in and out of storage.
Aerial training such as Trapeze, Silks, and Lyra.

Made in the USA

California Residents: California Proposition 65 Warning Information