Wrist Training Bar - Light Resistance
Features
Level 1 (Red): 5-10 lbs.
Wrist training bar measures approximately 1.57" x 12".
A bendable, flexible bar that aids your wrists, forearm, and hands. Aids in strengthening your muscles to alleviate soreness or prevent stiffness.
Commonly used during physical therapy.
Use independently or progress through 3 resistance levels.
Description
Wrist Training Bars - Wrist Strengthener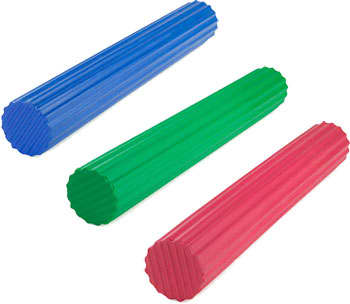 Are you prone to hurting wrists after a long day at work or strenuous exercise? Our Wrist Training Bar is the perfect compact training aid to help stretch out your muscles or to work out your forearms, wrists, and hands. Most commonly used during physical therapy and sports injury rehabilitation, the wrist training bar is a bendable, flexible bar designed to aid in strengthening and flexing the muscles. This helps to alleviate soreness or to prevent stiffness in the wrist, hand, and forearm region. Don't let the small size fool you; our wrist training bar comes in 3 progressive resistance levels to match your capabilities: Red is the easiest to twist, green is for an intermediate level, and lastly blue is the hardest. Each bar measures approximately 1.57 inches x 12 inches. The approximate resistance levels are: Level 1 (Red): 5-10 lb, Level 2 (Green): 10-15 lb, and Level 3 (Blue): 15-20 lb.
Specifications:
Wrist training bar measures approximately 1.57" x 12".
A bendable, flexible bar that aids your wrists, forearm, and hands.
Wrist strengthener: aids in strengthening your muscles to alleviate soreness or prevent stiffness.
Commonly used during physical therapy (PT) or occupational therapy.
Use independently or progress through 3 resistance levels.
Level 1 (Red): 5-10 lb
Level 2 (Green): 10-15 lb
Level 3 (Blue): 15-20 lb